This post is the second instalment to Why we became Zoom Experts.
---
Towards the end of 2015, we identified that something was missing when it came to meeting with interstate staff and brainstorming ideas.  With offices and key staff across four states of Australia, it was obvious to us that the way we purely and simply put our heads together needed to change.
When you are a remote worker, the convenience of passing by a colleague in the office hallways or stopping by their desk to ask a question about a project you are tackling together or have a chat simply isn't possible.  For most cases, email is a far too impersonal and formal alternative.
I wrote at length in part 1 about how the way we reach one another – not just in business – has changed vastly, with our need for immediacy in response.
Up until the late Noughties, methods we chose to connect with one another dictated the urgency of what we had to say. This distinction that is now almost completely blurred.
Not to mention the culture that is growing around abandoning phone calls between friends altogether.  The Huffington Post wrote a great piece about why we assume something is wrong when friends call us on our mobile phone.
Why Zoom was the right choice for us
By the second half of 2015, we were installing dozens of Video Conferencing systems in client's offices and the like every single month.
Requests for traditional hardware-based Video Conferencing systems to be installed in meeting rooms came through to us often.  Our clients usually had an idea of which 'big name company's' platform they wanted to use.  Their choice was typically based on cost, or which product provided the path of least resistance when it came to making everything play nice with their existing AV and IT systems.
We had demo units of hardware Video Conferencing systems in the showroom at our head office, that we really weren't putting to use for our own needs.  With the recent trend-shift in businesses to employing remote workers, having a traditional hardware VC system simply makes no sense.
Since nearly all admin or hands-off tech jobs can be performed over the internet, companies often don't need interstate brick & mortar offices to house their staff.  Remote staff work from co-working offices, home, or cafe's; business is now largely location agnostic.
Having a hardware VC system in a remote worker's home is just not cricket, and the PC/Mac software that lets you dial into head office's conference room is expensive and clunky, at best.  Phone calls with two mobile phones placed next to each other on speakerphone doesn't cut the mustard. We needed something else, and quickly.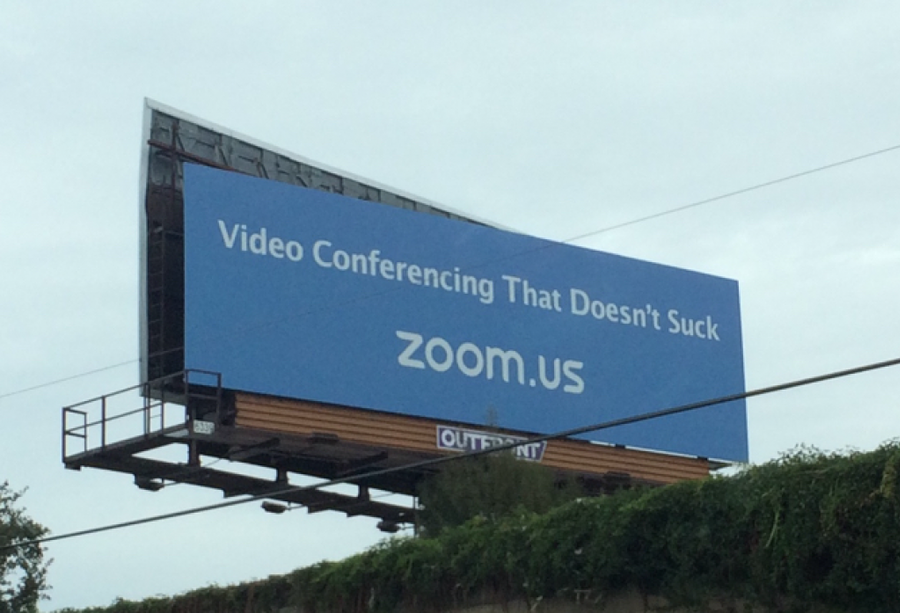 Zoom.us
Why Zoom?
The first time I used Zoom a little over a year ago, I admit I hadn't even heard of platform before. I was in a professional mentoring group with members who were located across the globe.  After working out a convenient time to meet across the 9 different time zones for the group's 12 members, I was sent an email that casually mentioned that we would be meeting over Zoom.
I googled Zoom, and found their home page.  It looked Corporate, but the pricing page suggested a low-cost solution.  I changed tabs back to my email, and continued reading.
There was a link at the bottom that said 'click here to join the meeting', followed by an 'or tap this if you're on an iPhone'. Right at the bottom of the message read 'or finally, if you don't have access to a tablet; smartphone; or Windows, Mac, or Linux laptop or desktop with an integrated microphone – click here to find a local number to dial into the meeting.'  Surely, it couldn't be that easy?
It was.
I didn't need to download any software, register a username, and then email the meeting host with my username before spending the time to familiarise myself with the platform.
Five minutes before the meeting started, I clicked on a link, and I was in the meeting. I selected that I would be using my laptop's audio (rather than a dial-in number), and I was presented with half a dozen of the other attendees, who were also five minutes early.
Stay tuned – Coming up in Part 3 of 'Why Zoom': What our Director thought when I set up our first Zoom Meeting.
Check out our platform comparisons below.
I spoke freely based on my experience in testing cloud VC solutions, see a brief breakdown after the jump.
Feel free to comment on this post with your experience!
---
Comparisons
We dabbled with the 'lot. We didn't test as many as GoDaddy tested before settling on Zoom, though.
As the IT Manager, I felt that we needed a solution that we would use for the long-haul. One that made sense, suited our remote workers (myself included), and that our… ahem… non-technical staff could use easily.  I didn't want to remote into everyone's PC so they can join the meeting, and unmute their microphone. C'mon guys, open your control panel, click 'Sound and Devices…'
In summary – based entirely on our own experience at the time, of course, your mileage may vary:
GoToMeeting – too pricey, clunky, steep of a learning curve. Not enough bang for buck, reliability, device compatibility, options for fixed meeting room hardware, integration with our existing systems.

Skype for Business ('Lync' at the time) – didn't play nice with our Google Apps for Work setup. We use Google for our email, calendars, file sharing, and the list goes on;  a service I wouldn't hesitate to recommend above the rest, even without their affiliates programme!  This was pretty important to us, so Skype for Business was ruled out pretty quickly.
This led to the obvious testing of:
Google Hangouts – We already used Google Apps for Work, so it would fit into our IT systems nicely.  Besides, it was free for us to implement, was already integrated with our file-sharing, and (using WebEx technology), could handle screen-sharing and remote assistance.
This 'obvious choice' left much to be desired with performance when more than two people were connected at once, and left us with a hard limit of 10 devices.  Without clunky hardware sitting in the middle, we couldn't bring it to a meeting room, to truly replace the traditional VC room experience.
Skype (regular) – No way to centrally manage user accounts, and the user's inevitable password reset requests.  Do we use our personal Skype account?  File and screen sharing was weak, and forget about annotating shared content on the fly.  All this in addition to the same challenges we met with the Skype for Business solution. Why Zoom is so much better? I think you'll just have to see for yourself.
Dishonourable Mentions
BlueJeans – Simply not as feature-rich or easy to use as Zoom. We were able to test it out during the free 14-day trial, but the lack of pricing information on their website made me nervous.
Adobe Connect Meetings – Simply not as good, and thrice as expensive as Zoom.
WebEx – Laggy, expensive, and won't show more than a few video participants on the screen at a time.  The platform favours Internet Explorer, which I believe should say enough.
AnyMeeting – IMHO, the user experience sucked. The Basic version had Ads, and there's a hard limit of 200 attendees.  This might be fine for small to medium-sized companies wanting an unintegrated, software-only solution for staff to meet, but we want the ability to host webinars in the future.