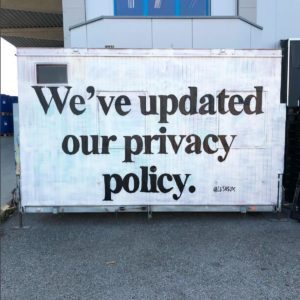 A quick note: This is a blog post.
Written by human, not a lawyer. It is not intended as legal documentation or advice, but more a guideline as to what to expect with how we will treat your data and information.
Respecting our customers' right to privacy has always been a no-brainer to us. We've never shared or sold your personal data; we've never spammed you with a million emails, or mislead you as to how we treat your data. This was true even before GDPR compliance made the world sit up and take notice of privacy requirements.
What's this GDPR, anyway?
If you haven't paid attention to anything other than the fact that nearly every company has sent you an email about their privacy policy:
The EU General Data Protection Regulation (GDPR) is a new set of EU data privacy regulations (enforceable on May 25, 2018).
It creates a unified approach to protecting all EU residents' data and its rules apply even to companies based outside of the EU, including Audiovisual Projects.
Updates to our Privacy Policy
Our privacy policy applies to all of our customers, within and outside of the EU. Here are the updates:
Clearer and more transparent: We've reworded our privacy policy to make it easier and clearer for you to understand what personal data we collect, how we collect and process the data, and for what purposes. We also provide more clarity around how we store, transfer, and share personal data and our data retention practices.
Control: We've updated our policy to better explain your choices and the control you have over information about you and your online activities. For example, you can request more information about the personal data we collect about you, request that we correct or erase certain of your personal data, or request that we stop processing your personal data in certain ways. Any customer has a right to make these requests from us at any time.
Increasing Transparency Around Cookies
If you visit our website, you will likely get a little cookie put on your browser for purposes of providing our services, delivering you more relevant content on our site, and customising or reducing advertisements you see once you're a customer.
For more information, please see our specific cookies policy for details on the cookies we use when you visit our website.
We also use cookies to understand our users' 'flow' through our website, in order to identify which content on our website is most relevant or important to our visitors, and understand which devices our visitors use to check us out online.